News
Community Involvement
Currently recruiting
We have the following jobs currently advertised on Trade Me, click the links to read more.

Civil Projects Supervisor/Estimator (Hands-on)

Skilled Civil Contracting Staff
---
Trainee of the Year
Brad Day – Trainee of the Year and winner of the Warren Drake Memorial scholarship at the NZCF Northland Construction Awards.
---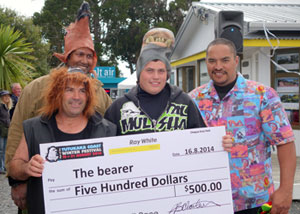 Tutukaka Coast Winter Festival
The Robinson Asphalts team won the Business category of the inaugural Ngunguru Raft Race - part of the Tutukaka Coast Winter Festival 2014.
Our team of Raft paddlers were Andrew Cooper, David Wright, Blair Wright and Marshall Bercic.
---
Awards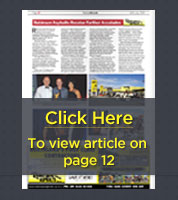 Robinson Asphalts scooped 3 awards at the inaugural NZCF (NZ Contractors Federation) Northland Construction Awards held in Whangarei 13/6/14.

The Robinson Asphalts team won the $0-$200k project category with their Kamo Bypass Railway repair job for Fulton Hogan, they also won the $750k-$1 Million Project category with their Pak n Save Whangarei Carpark Stage 1 Project.

Robinson Asphalts employee Bradley Day won the "Trainee of the Year" category. Brad has been with Robinson Asphalts since leaving school and is studying towards his NZ Diploma in Engineering (Civil) while working full-time at Robinsons. He is very dedicated and hardworking.

Also at the Awards night, Alan and Annie Johnston were both made life-members of NZCF Northland for their contribution to the branch, Federation and the industry spanning more than 20 years. Annie is the first female to be honoured with Life membership in Northland.
| | | | |
| --- | --- | --- | --- |
| | | | |
| Alan Johnston & David Gurnell with the NZCF Northland Construction award for Projects $750k - $1mill for the Pak n Save Carpark Stg 1 | Alan, David Gurnell (Senior Foreman) & Annie with one of three awards won at NZCF Northland Construction Awards 2014 | Annie, David Wright and Alan with the NZCF Northland Construction Award for Projects $0-$200k for the Kamo Bypass Railway repairs | Bradley Day – winner of the Trainee of the Year Award at NZCF Northland Construction Awards - for Engineering studies |
| | | | |
| Peter Robinson, Annie & Alan Johnston – 3 Life Members of NZ Contractors Federation Northland | Two generations – Joan & Peter Robinson with Alan & Annie Johnston |   |   |
| |   |   |   |
|   |   |   |   |
---
Contractors for Charity
Three of our boys put their bodies on the line for Charity as contestants in the Contractors for Charity Boxing Tournament 14/12/13. This event raised funds for the Choose Life suicide prevention charity and was put on by local contracting firms including Robinson Asphalts.
Contractors for Charity on Facebook
Northern Advocate Article


Boys ready for weigh-in - Contractors for Charity Fight for Life
3 out of 3 for the Robinson boys! – three of our staff- David Wright, Brad Day and Sam Johnston all competed and won their fights in the Contractors for Charity event as part of the Fulton Hogan team. A great event raising funds for the "Choose Life" suicide prevention charity.
---
Supporting our Northland ITM Rugby team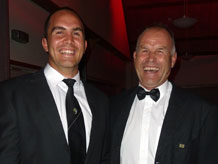 We support Northland Rugby by purchasing season tickets and releasing those players on our staff to play for the season and ensuring they have work to come back to when the season is over.
Promising Northland player Roy Griffin is a key member of our team.
---
Robinson Asphalts are proudly local - supporting the Northland community consistently over the years since 1972.
Robinson Asphalts are longstanding sponsors of Sport Northland – we believe this is the best way to support a broad range of sports, teams and individuals throughout Northland.
We have also been regular sponsors of the Allens Kids Triathlon – now the Ray White Allens Kids Triathlon. Not only do we support this wonderful event financially but members of our team go along on the day and help with anything from marshalling and organising the kids to find their bikes, to encouraging them to finish and helping organisers with the clean-up afterwards.
Robinsons also had 6 teams in the Ray White Allens Amazing Race – organised by Gary Younger of Ray White Allens, to raise funds for the Cancer Society Relay for Life. This was loads of fun – with anything from changing a tyre to sack races and cryptic puzzles. There was plenty of competition between the teams. As always Robinson Asphalts teams took a collaborative approach – helping each other out along the way. Check out the photos!
Robinson Asphalts has supported Project Promise by sponsoring movie premieres in Whangarei and purchasing a brick in their wall. This has been a very important fundraiser to meet the target of building Northland's very own Oncology Unit here in Whangarei. Show your support – click here to find out more…
Over the years we have supported the Variety Bash Children's Charity. . Alan Johnston has been an active part of several Bash events.
We also support many schools and sport clubs around the district.
Just some of the many other community events, clubs and charities we've supported :-
Northland Rugby, Cycling, Kamo Lions, North Haven Hospice, Hihi Residents & Ratepayers, Kamo High School,
Northland P Project, Relay for Life, Sam Warriner.
Robinson Asphalts – giving back to the community
---
Robinson Asphalts Celebrating 40 Years of Excellence
This leading contracting business was originally started by Peter and Joan Robinson in 1972 when they bought out the small operation of Tom Hollows. Twenty years later in 1992 they sold the business to their son-in-law and daughter, Alan and Annette (Annie) Johnston. And here we are – another 20 years have flown by under their ownership!
The emphasis at Robinson Asphalts is very much on quality They believe in doing the job once and doing it right. Their client base ranges from residential and commercial property owners to schools, hospitals, Councils and builders. Robinsons have built long-lasting relationships with many of their valuable clients in Northland and aim to be the contractor of choice.
Click here to read this article